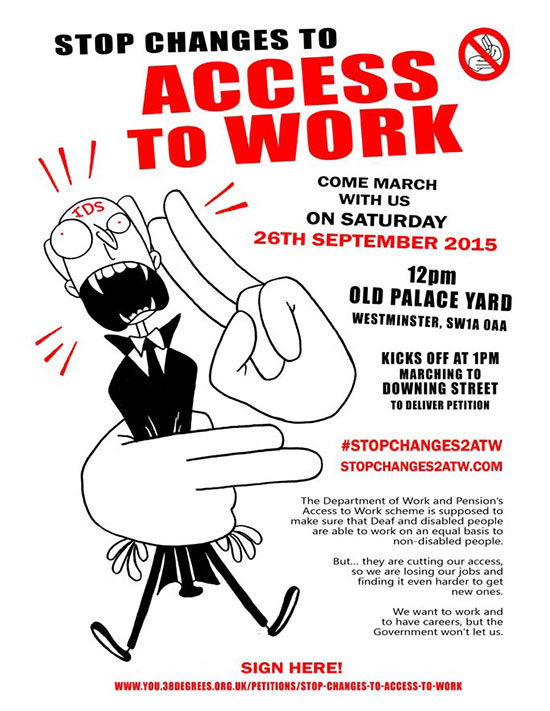 The Stop Changes To Access To Work campaign has always been a collaboration between Deaf and Disabled people and BSL/English interpreters. Very early on, the government's rhetoric strongly indicated a desire to create a divide between the Deaf community and interpreters (e.g. by grossly overstating the earnings of interpreters). It was partly a response to this situation that instigated the inception of NUBSLI, with an acute awareness that alongside the Deaf community BSL/English interpreters would be targeted by the DWP.
DWP cap on AtW is unnecessary
It is our view that the proposed cap on Access to Work funding serves to further the attempt to divide interpreters and Deaf people, whilst at the same time re-establishing a glass ceiling in the work-place, the very same ceiling that the introduction of Access to Work helped to remove. The cap is a supposed solution to a problem which we believe does not exist.
Two years after the initial requests were made, the government have yet to provide any information on the Return on Investment (ROI) for the Access to Work scheme. They refute the Sayce report figures, which indicated a £1.48 return for every £1 spent, despite having accepted this report and its findings, which they had commissioned.
NUBSLI
NUBSLI continues to work closely with StopChanges, DeafATW, DPAC, Graeae Theatre Company, Inclusion London, Unite the Union and many other campaign groups, and see these relationships as vital in this climate of cuts.
Our aim is to safeguard our profession and the services that our friends, family and colleagues in the Deaf community access. That is why we will be marching on the 26th September and hope you will join us.
Stop Changes to AtW march details
The Department of Work & Pensions' Access to Work scheme is supposed to make sure that Deaf and disabled people are able to work on an equal basis to non-disabled people.
But…they are cutting our access so we are losing our jobs and finding it even harder to find new ones.
We want to work and have careers but the Government won't let us.
When
Saturday 26 September 2015
Meet at 12.00pm
March begins at 1.00pm, marching to Downing Street to deliver petition.
Where
Old Palace Yard
Westminster
SW1A 0AA
Nearest Tube: Westminster
Plan your journey with Transport for London
Further information
Visit the website: StopChanges2AtW
Sign the petition: Stop Changes to Access to Work petition
Tweet about it using the hashtag #stopchanges2atw