Take the Knee on Tuesday 25th May and share photo or video evidence via social media at 6pm with your own comments plus any/all of the following hashtags to get our support trending worldwide.
#UKisNotInnocent #BlackLivesMatter #TakeTheKnee #SayTheirNames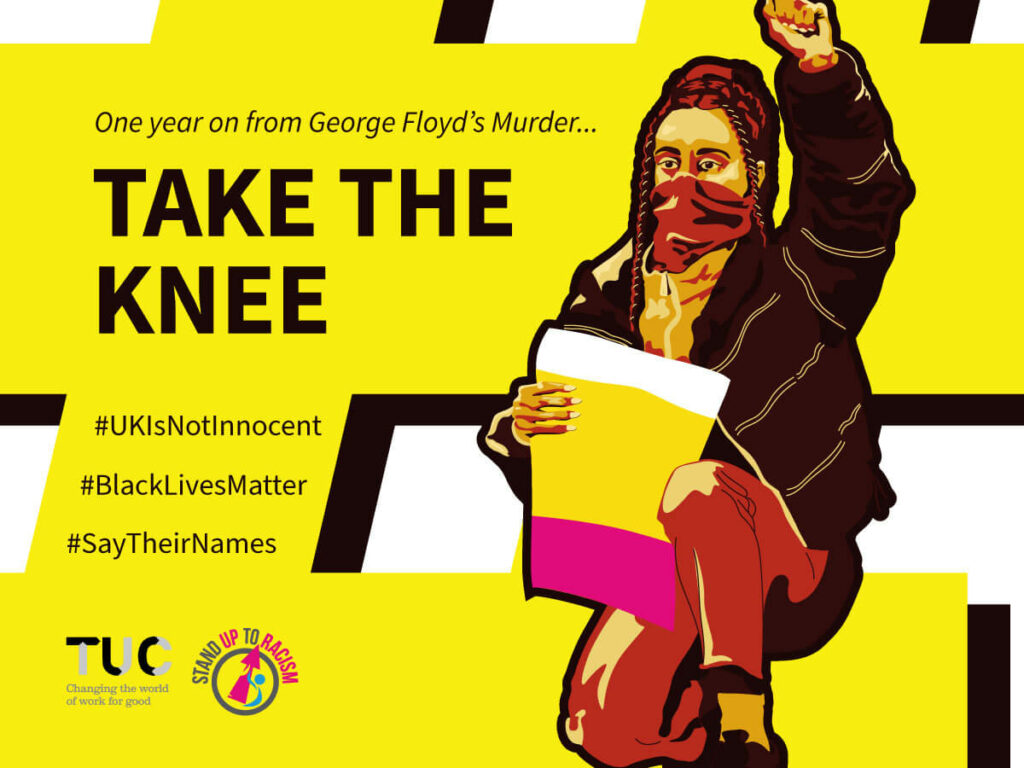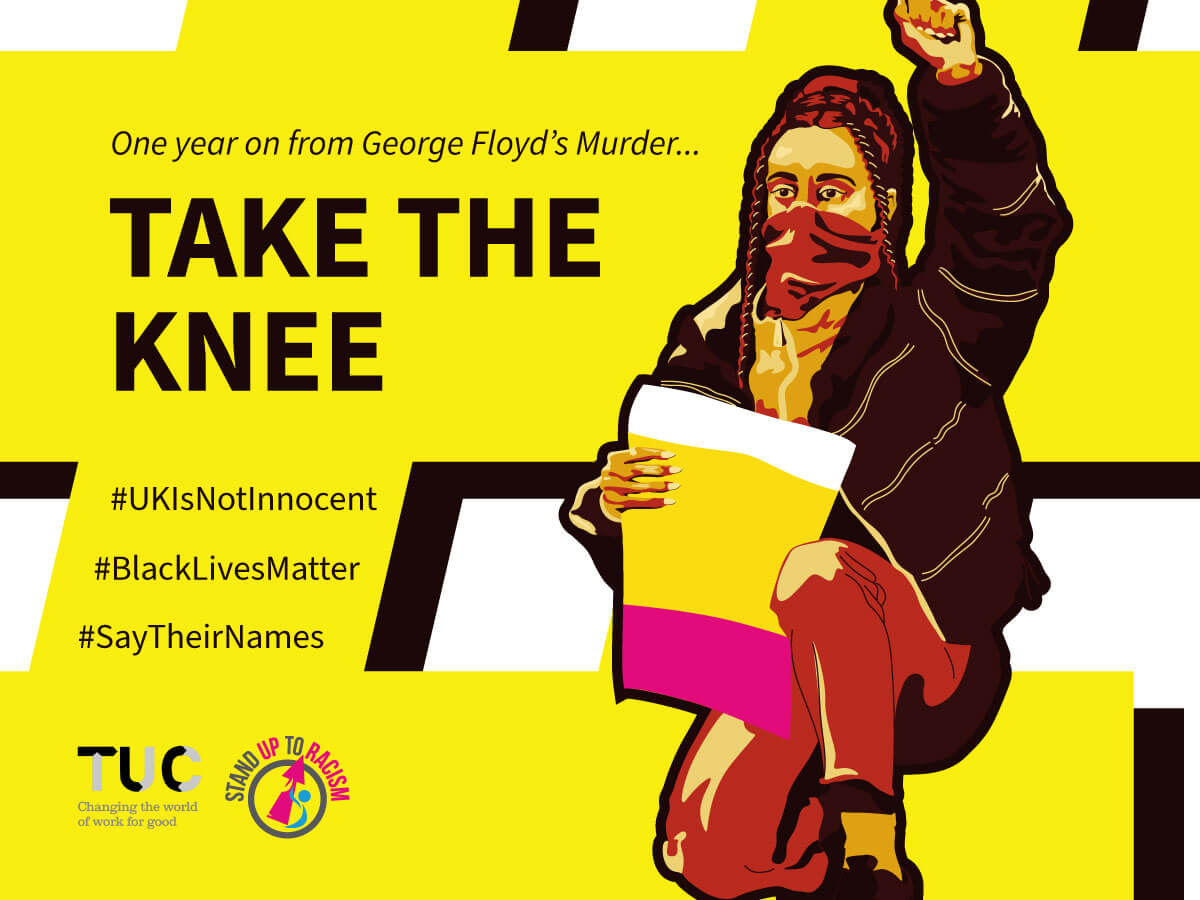 This is a critical time for both Black Lives Matter and the Trade Union movements. We need to step up, stand up & speak out. We need to show our abhorrence to racism.
Whether the actual timing was 7mins 46secs, 8mins 46secs, or 9mins 29secs, it felt like an eternity and the world was shaken by the sight of George Floyd being brutally murdered by the State right in front of our eyes, but many people still feel that what we witnessed was an American problem.
The UK is not innocent
Warning: the following contains descriptions of violent racist attacks.
David Oluwale, a 38-year-old British Nigerian, drowned in 1969 as a direct result of brutal, degrading, systematic harassment by Leeds city police force. His death resulted in the first – and only – successful prosecution of British police officers for involvement in the death of a Black person. The two officers were convicted of assault but acquitted of charges of manslaughter and perjury on direction of the judge in this case.
In 1999, Roger Sylvester died aged 30 from brain damage and cardiac arrest, triggered and exacerbated by breathing problems that occurred during his restraint by Metropolitan Police officers in North London.
After being handcuffed, six officers held him face down on the floor for 20 minutes, at which point he fell into a coma and died later in hospital.
Sylvester was the seventh Black man between 1980 & 1999 whose death in police custody has been found by an inquest to have been an 'unlawful killing', but he is conveniently painted one-dimensionally by the authorities as a man with mental health problems who was experiencing cannabis-induced delirium.
Former professional footballer, Dalian Atkinson died in a Telford hospital in 2016 as a result of going into cardiac arrest after being tasered continuously for 33 seconds and then kicked in the head by police in Shropshire.
24-year-old Mohamud Hassan, a Black British-Somali man, died in January 2021 at his home in Cardiff after being released from police custody earlier the same day. He had come into contact with more than 50 South Wales Police officers during the final hours of his life, only one of whom has been issued with a misconduct notice. The investigation into Hassan's death continues, but he was the sixth person to have died within a year in England & Wales immediately after contact with the police.
No police officer in Britain has ever been prosecuted following a death in custody.
We need justice as a mark of respect to the dead and those they leave behind to make sure that these patterns do not continue. It is not what we say that matters; it's what we do!
Demand change
We need to mobilise for May 25th. It marks a year since George Floyd was murdered and we should also commemorate the Black, Asian and ethnic minority NHS workers, bus drivers, care workers and others who died as a result of being deliberately put in harm's way by a reckless government during a global pandemic.
This moment really matters, and collective action is the most powerful weapon we have.
Building on the actions of the Black Lives Matter movement, more and more people are mobilising and taking to the streets to demand change, as evidenced in Bristol in June 2020, in Pollokshields, Glasgow last week and outside the Israeli embassy in London at the weekend.
It is no surprise that the Tory government is using the Commission on Race and Ethnic Disparities review, set up by No.10 itself, to try and put racism back in the box, claiming that "we no longer see a Britain where the system is deliberately rigged against ethnic minorities." Windrush and Grenfell tell a very different story!
The government cannot claim that institutional racism doesn't exist simply because a few people make it to the top tier. Rishi Sunak & Priti Patel are not evidence that racism doesn't exist; if anything, they are classic examples of the oppressed becoming the oppressors.
The Tories are intent in creating laws that dismiss BLM as a protest movement that is just out to destroy statues. They have a strategy to divide and rule. To quote abolitionist and social reformer Frederick Douglass, "they divide both to conquer each," and the concept of ID cards for voting is straight out of Trump's Guide to Successful Systemic Racism!
Take the Knee on Tuesday 25 May
So, yes, those who can should Take the Knee on Tuesday, 25th May – as individuals, in groups, in your workplace, in local communities, wherever it is safe to do so – and join the 6-7pm Twitterstorm by sharing pictures, comments, reports and videos of your actions with the hashtags #UKisNotInnocent #BlackLivesMatter #TakeTheKnee #SayTheirNames to commemorate George Floyd's death, to offer solidarity with the BLM movement and to highlight the reality of institutional racism and disproportionate policing in Britain.
Fighting racism is fighting for justice for all of us, but we should not just mark this one day, take a selfie and forget about it.
We have had enough of nothing being done and we shouldn't just sit in anger. People are sick & tired of being sick & tired, and it took the world standing still for people to notice, so this has to build something. It's a matter of life & death.
Challenge racism
The challenge is this – if we want to build a movement, we have to challenge racism when we either witness it or experience it directly, so it falls to each of us to engage in difficult conversations to try and shift those people with dodgy attitudes onto our side.
It's about being big & brave, bold & radical, straightening our backs, lifting our heads and bringing about real anti-racism, with all colours calling for justice, equality, freedom, Black liberation and an end to racist oppression.
Day-to-day racism is alive and well in the UK:
Mohammed Saleem was murdered on the streets of Birmingham simply for being Muslim;
the racist abuse experienced online by MPs Diane Abbott and Dawn Butler, and professional sports people of colour, is unacceptable;
one-third of all deaths in custody are people from BAME backgrounds;
Black people are 3.5 times more likely to be arrested than their white counterparts, 3 times more likely to be detained under the Mental Health Act, 9 times more likely to be stopped and searched by police and 18 times more likely to be stopped and searched under section 60 (where no reasonable suspicion is required); and
there is a race pay gap too, with 1.9 million Black, Asian and ethnic minority employees collectively earning £3.2 billion less per year compared to white colleagues doing the same work.
A phoney culture war has been created and the far right wants to continue to minimise the BLM movement, so to win over individuals, we must show them the benefits of diversity.
Hate can be spread simply by how people choose to access news and other media but, rather than focussing on the few factors that divide us, we achieve progress by celebrating the vast majority of factors that we have in common.
As Malcolm X said, "If you stick a knife in my back nine inches and pull it out six inches, there's no progress. If you pull it all the way out, that's not progress. Progress is healing the wound," and we need to do all we can to change the minds of those who "won't even admit the knife is there."
The National Front, BNP & EDL were not defeated by the actions of governments; they were defeated by unity & solidarity.
Black & white – unite & fight!