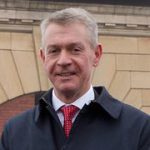 In the last of our discussion with the General Secretary candidates, we put our questions to Gerard Coyne.
I have been at the frontline of the union movement my entire working life. I have spent 28 years in the service of the union and have led Unite in the West Midlands for more than 15 years. I have negotiated with countless employers and protected tens of thousands of jobs. Now I want to do even more for you as General Secretary.

I will stand up for you, the members, and give you honest and effective leadership.
NUBSLI drafted a rule change which was accepted by Unite in 2015 to establish a central access fund so that deaf and disabled people can access the union and all its functions. This has not been put into practice and BSL users in particular are still facing barriers in accessing support. What will you do to change this?
I am committed to supporting all our members and I do recognise the need to provide members who have disabilities with a more considered service. I am aware of the barriers that members face in participating in union structures activities and even venues. I would therefore like to conduct an assessment of the current state of the union's accessibility for members with disabilities and to work directly with those members on suggestions for improvements that will make a real difference to their experience of the union.
I will also support and empower our reps, organisers and officers, so we get better at growing the union and winning negotiations. I will create a new Rep Support Team to provide our reps with better guidance, advice and help when they need it. I will also create a new network of experienced former reps and officers who can support individual cases with their hard-won knowledge. We will become better at defending our members in the workplace.
I will put equality and openness at the heart of Unite with no tolerance of bullying or discrimination
As a major union we need to do much more to advance the causes of fairness, equality and respect. As a first step I will introduce Integrated Workplace Equality Committees to bring together large and smaller employers so we can tackle the issues in both large companies and through their supply chain.
If we're going to improve equality in the workplace, we must lead by example as a union, and we are not doing that today. Just one in four of our members are women, and we have many fewer black and ethnic minority members than there are in the wider workforce. Many Unite members have told me they feel excluded from internal decision making, and this must change.
I am determined that we will practice what we preach: fairness, respect and equality for all.
NUBSLI is a predominantly self-employed/freelance branch. There is currently no seat or representation on the NEC for this rapidly emerging group within the union and we have very different needs. Will you commit to establishing a new structure of support for freelancers and the creation of a new position in the NEC?
The world of work is changing fast. We are seeing the rise of insecure, poorly paid employment and a technological revolution that is transforming every workplace. Unite the Union needs to become much better at recruiting and organising in the modern economy, with a much stronger focus on skills and training to support good jobs and higher wages. I want to change our union so it is stronger, smarter and more effective.
I will put more power back in your hands at national, regional and local levels. As General Secretary I will support local campaigns with the resources of our national organisation. Our campaigning must reflect local priorities, membership and industries, and not be imposed from above.
I want local branch meetings where members feel free to air their concerns, without being worried that their managers are in the same room. I will also ensure there are more meetings where we can get together to meet and learn from each other. We need to move into the modern world of online communication that is more personal and two-way, more timely and relevant to you.
Most of the membership benefits are aimed at employed members. What will you do to change this?
Your union takes more than £150 million of subscription money from members every year. I do not believe there is enough openness about how your money is spent, so I will introduce proper transparency to Unite's finances. At the moment members of the union cannot see what their money is being spent on. If elected as General Secretary I will set up a new value for money and audit committee, directly elected from the lay membership, to ensure you get the best value for your subscriptions.
Unite spends tens of millions every year on goods and services that it buys from other organisations and individuals. We need a clear procurement policy so contracts are never awarded on the basis of friendships and favours. I will introduce a proper, published procurement policy and process. Decisions can then be scrutinised through the new value for money and audit committee.
Much of the technology and support available to branches is only available during the day. As a group who need to meet outside of normal working hours (or we lose our income), will you commit to changing this?
I know that many members do not feel as though they get value for money and the support they deserve, and that must be addressed. Unite has a duty to its members, and that means adapting to accommodate different working patterns in order to provide an effective service. We must explore more solutions to correct this imbalance, including more use of online conferencing facilities so that we can reach more people, as well as hosting more events and training opportunities on evenings and weekends. I would welcome the input of NUBSLI members to make Unite's services more helpful and relevant to you, and all members experiencing similar difficulties across the union.
All Unites training is aimed at employed staff who can take paid time off work. This is prohibitive to freelancers who would lose their income. What will you do to meet the training needs of branches such as ours, and ensure the union runs in a more equitable way?
Unite need to provide more flexible and creative solutions for freelances who have difficulties with the hours that they can commit to union activity. We need to be exploring how distance learning, video and voice conferencing and more evening and weekend events can be held. I would welcome the input of the NUBSLI members to help to inform this process and improve the experience for other members who also experience difficulties in participating in union activity under the current leadership.
I will stand up for you, the members, and give you honest and effective leadership.
I will give you better value for your hard-earned membership money, starting with a two year freeze on subscription rates.
I will clean up our union, let in the sunlight, and bring real transparency to Unite's finances.
It's time to take back your union!
---
You can find out more on Gerard Coyne by visiting his campaign website.
You can hear from the other two General Secretary candidates Ian Allison and Len McCluskey in our previous Nub articles.