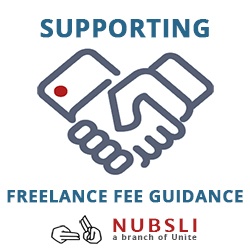 In 2016 NUBSLI released its first national guidance on fees. At that time interpreters were pressured to reduce their fees and the introduction of framework agreements resulted in agencies cutting fees. The fees guidance was an important step in fighting back against the downward pressure of fees, terms and conditions.
For more than three years there has been no change to the guidance on the amount interpreters charge. Since the majority of BSL/English interpreters are self-employed and decide on their rates it is important that the guidance is reviewed to ensure it remains relevant and accurately reflects what is being charged in the UK regions. A second review is also based on a larger union membership and accounts for the cost of living increases since the initial guidance was released.
How the review was performed
Members were surveyed and asked to provide the fee they feel is appropriate for short duration, half day and full day bookings for the regions they work in.
The data was collated and the mean figure calculated and rounded up or down to the nearest £5. For example, £278.64 became £280.00 and £124.50 became £125.00.
Members were also surveyed on the guidance that accompanies the fees. Members overwhelmingly voted to retain the wording with some minor suggestions, which have been incorporated. Two material changes were suggested specifically around time and a half for evening and weekend work and suitable areas of work for trainee interpreters. Members were given a secondary survey on these two changes and voted to adopt the new wording which is now embedded in the guidance.
Why the fees guidance is important
Members, non members, hearing and deaf clients have reported in large numbers how helpful the fee guidance is to them. From having a guide to use when quoting for work to agencies having established guidelines to follow when tendering for contracts, the guidance has been invaluable and is one of the union's biggest achievements to date.
Interpreters are still being pressured by some organisations to reduce their fees to unsustainable levels. The fee guidance gives those individuals the backup to maintain their fees and work towards creating a sustainable industry for the future.
View the updated fees guidance.
---
NUBSLI reminds those booking the services of BSL/English interpreters that these figures are guidance only and that you should confirm an interpreter's fee prior to booking them.