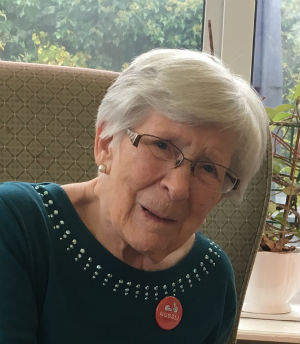 It has been a privilege to have known and worked with Kathleen. She grew up in a deaf family so she had first hand experiences of knowing (and seeing) the difficulties and barriers facing deaf people. 
Kathleen was a dedicated interpreter and the most important aspect of her work was to ensure Deaf people were given the correct translation so that they had the details and information they needed to make informed decisions, etc.  Kathleen knew her boundaries – even if she was a friend as well – she made sure she never crossed those boundaries when she was working.  Always the ultimate professional in everything she did. But, if she felt there was an injustice or the deaf person wasn't being fairly treated – then she became a ferocious challenger.  She did this, often (though not always), in a quiet and restrained way –  but you never forgot what she said and meant. 
She supported many of what she called "the younger" interpreters bearing in mind she didn't retire from interpreting until her late seventies. The support and advice she offered was immeasurable but don't be fooled – it was her way of making sure those coming after her were skilled, had the right attitude and were as committed as she had been in her lifetime to the profession. It was that important to her.
She was a very active and vocal supporter for deaf peoples' rights in Bromley and she supported and organised many social events for Deaf/blind people (who were very close to her heart).  When NUBSLI was set up – she became a keen supporter, asking for regular updates/news and offering her views and opinions.  We were so pleased that she joined NUBSLI as our 400th member.  If NUBSLI was set up 15 or even 10 years ago – she would have been our most active member. In many ways she remained an Interpreter and advocate of deaf peoples' rights until her final days – it was that important to her.  
From deaf peoples' perspectives we have not only lost a skilled interpreter but a friend and ally who supported deaf people in their fight for rights and access to work, education and justice.
She wasn't keen on the term 'role model' but she would be a good example to follow – supportive, skilled interpreter, always prepared, professional, knew and kept her boundaries clear, informed, brilliant at spelling, intelligent, determined and thoroughly good friend of deaf people and the deaf community.
We will miss her as a colleague but much more so as a friend.
Nicky Evans and Geraldine O'Halloran