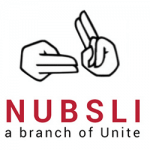 If you're an ASLI or VLP member you might wonder why you need to join a union.
A union is very different to your professional organisation because it defends workers' rights to ensure they are remunerated appropriately, have fair terms & conditions and work in a safe environment.  NUBSLI members are from VLP and ASLI (or some are members of neither), both trainee and qualified interpreters and translators.
NUBSLI is part of Unite the union, the UK and Ireland's second largest union. Unite provide us with the structure needed to represent qualified BSL/English and Deaf interpreters/translators – and those in training to become qualified – collectively, working towards persuading the government and other providers to recognise appropriate qualifications, skills, experience, pay, and terms and conditions.
We have accomplished much so far but can do even more with your support as a member. Watch our video below and see why you should join NUBSLI.
The best thing about being a member is the knowledge that collective action is more powerful than individual action